Amy and Joel Boyter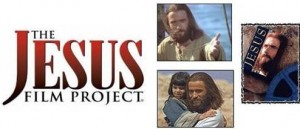 Amy and Joel are part of a team developing new and creative ways to use media tools along with the JESUS film to stimulate spiritual movements everywhere. They work at the JESUS Film Project headquarters in Orlando, Florida where the Master Studio is located.
The JESUS Film Project distributes the film JESUS, a two-hour docudrama about the life of Christ based on the Gospel of Luke. The goal of The JESUS Film Project is to help share Jesus with everyone in his or her own heart language using media tools and movement building strategies.
The film has been seen in every country of the world and translated into over 1,800 languages since its initial release in 1979. Our goal is to reach every nation, tribe, people and tongue, helping them see and hear the story of Jesus in a language they can understand. So whether a person speaks Swahili, French, or a language whose name is extremely difficult for most to pronounce, he or she will encounter the life and message of Jesus in a language "of the heart."
Many mission experts have acclaimed the JESUS film as one of the greatest evangelistic success stories of all time. The ultimate success of this project won't be measured by how many people have already seen it, but by how many will follow Him after seeing this film. So far, more than 200 million people have indicated decisions to accept Christ as their personal Savior and Lord as a result of seeing JESUS.
———————————————————————————————————–
FEED MY SHEEP MINISTRIES
Since its inception, Feed My Sheep Ministries' vision has been to meet the Physical and Spiritual needs of all through the love and grace of our Savior Jesus Christ.
Our Community Kitchen is open 7 days-a-week and provides supplemental meals to the Seniors, the Disabled, Families and Homeless persons in need of a hot, nutritious meal.
We strive to be servants in the image of Christ, therefore our facility is not an institutional typesetting but actually more like a family dining room where our patrons are served individually like a paying customer at a restaurant. We provide an atmosphere of love and servant hood where 'everyone is someone.' Our patrons are 'loved on' and have a sense of belonging which gives them the understanding that they are precious in the eyes of the Lord.
We teach that 'we can do all things through Christ who strengthens us' and remind everyone that God has a plan and a future for each one no matter what hardships or backgrounds we may have. Each day is started by a devotional from the Word of God by our Pastor or one of our volunteer staff members. Words of encouragement are given to empower and engage the patrons to be all they can for their Lord,
Family and Community. The availability to speak privately to any of our volunteers is always available to those needing personal ministry
Pastor Rev Dayton Livingston
and
Director Carol Livingston
————————————————————————————————–
International Disaster Emergency Service
PO Box 379
Noblesville, IN 46061-0379
(317) 773-4111
Email: ides@ides.org
The International Disaster Emergency Service, IDES, began in 1973 by Milton Bates who was led by the Holy Spirit to organize the Christian Church/Church of Christ congregations to meet the physical needs of people who had experienced some type of disaster situation. One individual, or even one congregation, could not always make a significant contribution. But if the churches pooled resources, we should be able to offer a sizeable gift that would really make a difference and strengthen the witness of Christians trying to work in these depressed areas.
The fascinating story and history of IDES can be found on the website, www.ides.org/history
From those humble beginnings, now many receive a gift that "makes a difference and strengthens the witness of Christians." Wells are dug to give the missionary opportunity to teach about the Living Water. Food is given to open hearts to the Bread of Life. Lives are changed as blankets and medicines are given in the name of Jesus. Houses are built to provide shelter for families, and they experience the warmth of being part of the family of God. God's love is demonstrated not just with words, but with deeds and in truth. Ephesians 3:20, 21 say, "Now glory be to God! By His mighty power at work within us, He is able to accomplish infinitely more than we would ever dare to ask or hope. May He be given glory in the church and in Christ Jesus forever and ever through endless ages. Amen!"
To see how someone is making a difference or to get involved, visit the IDES website or Facebook page. http://www.ides.org/
————————————————————————————————–

Wycliffe was founded in 1942 by William Cameron Townsend. A missionary to the Cakchiquel Indians of Guatemala, Townsend caught the vision for translation when Cakchiquel-speaking men expressed their concern that the Bible was not available to them in the language they understood clearly. As a result, Townsend resolved that every man, woman and child should be able to read God's Word in their own language.
Since its inception, Wycliffe has made great progress in Bible translation all around the world. To date, we have played a part in completing more than 700 Scripture translations.
Wycliffe works all around the world. Currently our efforts serve languages spoken in more than 90 countries. The majority of the remaining translation needs represent minority languages—relatively small people groups, many of which struggle to maintain their identity in the shadow of majority culture. Often these groups have no written language of their own, and many struggle to gain the literacy skills they need to prosper in the majority culture.
The benefits of translation and literacy for these minority language groups are many. They include better health as a result of access to medical information, economic growth due to the acquisition of marketable skills, and the preservation of culture thanks to a written history. Most importantly, Bible translation brings people closer to God Himself—the One who transforms hearts.
———————————————————————————————
As you can see, LSCC is very involved in spreading the Word of God, supporting both traditional (Wycliffe) and contemporary (the Jesus Film Project) methods. We believe that "faith comes from hearing and hearing from the Word of God" (Romans 10: 17). It is our wish to see that the Word is available to all people groups.
Besides 'spreading the Word' we also encourage the 'walk' of the ministry of Christ through our support of World Mission Builders. WMB focuses on meeting the physical need of our Brothers for church buildings and schools.
Locally we are involved in the Feed My Sheep Ministry, serving one day a week at the soup kitchen, as well as, providing food and regular financial assistance. "For I was hungry and you gave me something to eat…" Matthew 25:35a
These are certainly not the only missions supported by LSCC and its members. Besides these, others receive financial, material, or physical support as God makes it available to us. As a group of Believers, we at LSCC are following Jesus' commandment to be a witness to Him, provide for the needs of other Christians and to provide for the needy.